Published: 11 December 2012
Hits: 3199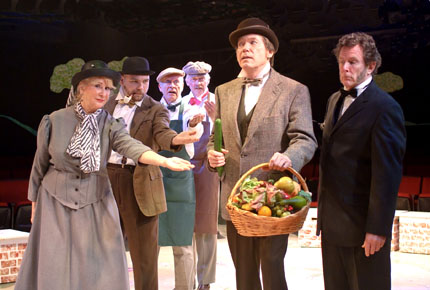 January 2013 Acting Classes
Colonial Players is offering three acting classes in the new year! Theatre Fundamentals and The Actor's Instrument will be taught by consummate actor, dancer, vocalist, and teacher, Ken Skrzesz. Mr. Skrzesz's long list of credentials include an MFA in dance from University of North Carolina-Greensboro, multiple awards, resident artist positions, and a long list of performance credits. Local actor, teacher, and director Ron Giddings will be teaching the Physical Theatre Workshop. Class sizes are limited.
Registration
Each workshop meets for 4 weeks. Advance registration is required. The cost for each workshop is $40.00 per person for Colonial Players members. Non-CP Members can register for $60.00 per person, which includes a Colonial Players membership for the remainder of the current membership year, through August 31, 2013. To register for any of the three workshops, click the Buy Tickets button next to the workshop of your choice below. Follow the instructions to register for the workshop. An email confirmation will be provided as a receipt. No physical ticket is necessary to attend the workshop as the Box Office will provide the workshop instructor with a list of paid participants.
Colonial Players Members: To receive the discount code for the member price, email This email address is being protected from spambots. You need JavaScript enabled to view it. with your first and last name, phone number, and address. Our Membership Chair will verify your membership status and reply to your email with a discount code to enter on the ticketing page. You must have been a member in good standing as of 12/1/2012 to be eligible for the member price.
Theatre Fundamentals, Level 1
Tuesdays 6:30-8:00 p.m., January 22-February 26
Ken Skrzesz, instructor
Class is limited to 12 students. Registration Deadline: 1/20/2013
This class introduces to basic tenets of theatre: imagination and communication. Students will participate in weekly exercises that develop knowledge of onstage exploration and interaction. An assigned monologue will be guided for a culminating performance.
The Actor's Instrument, Level 2
Tuesdays 8:00-9:30 p.m., January 22-February 26, 2013
Ken Skresz, instructor
Class is limited to 12 students. Registration Deadline: 1/20/2013
Physical awareness and vocal presence are the emphases of this course. Students will become aware of their bodies as instruments of communication while exploring basic elements of character through monologue and scene work.
Physical Theatre Workshop
Sundays TIME TBD (based on space availability), January 27-March 3, 2013
Ron Giddings, instructor
Class is limited to 10 students. Registration Deadline: 1/25/2013
Intense and demanding, this course is designed for actors looking to focus on ensemble building. Layering individual and group work, this rigorous physical training features practical exercises in a rehearsal room setting. Participants will learn how to use their bodies—individually and as an ensemble—to engage audiences, complement narrative, and enhance drama. They will learn to develop confidence, learn the power of taking creative risks, and gain insight into how revealing action can be in relation to character. This course concentrates on Grotowski, Meyerhold, and Viewpoints and is designed for physically capable actors.
BIOS
Ken Skrzesz: As a performer, Ken has appeared as everything from Ludwig von Beethoven with the Baltimore Symphony Orchestra to Herr Drosselmeyer in The Nutcracker. His theatre background includes 20 leading roles in the Broadway repertoire including Archibald in The Secret Garden, Curly in Oklahoma!, Judge Turpin in Sweeney Todd, Lancelot in Camelot, Tevye in Fiddler on the Roof, Billy Early in No, No Nanette, Al in A Chorus Line, Nathan Detroit in Guys and Dolls, and Cornelius in Hello, Dolly! Ken became a member of Actors' Equity Association in 1989 while performing in Mr. Cinders at the Goodspeed Opera House. He has danced in concert with Alan Danielson and Company, Deborah Carr's Theatre Dance Ensemble, Kinetics Dance Theatre, and toured internationally with SURGE Dance Company. He has performed as a guest artist in Jose Limon's Choreographic Offering and with the Ted Shawn Legacy. Ken is a baritone soloist and has toured extensively with various versions of An American Songbook since 1999 (more than 100 performances). Ken earned his Master of Fine Arts in dance from the University of North Carolina-Greensboro where he performed with the dance, opera, music, and theatre departments. He is a native Baltimorean where he received his Bachelor of Fine Arts from Towson State University. In 1985 Ken received the Baltimore Mayor's Award for Distinguished Service in the Arts. He received distinguished alumni awards from Towson State University in 1992 and from the University of North Carolina in 2008.
Ken is an active master teacher of acting and movement throughout the United States and was most recently the Executive Director of the Clear Space Theatre Company, where he created the Arts Institute and taught acting and movement. His long-term teaching posts have included the Carver Center (a performing arts high school in Baltimore), Goucher College, Southwest Missouri State University, University of North Carolina, and private schools throughout the country. Ken has served as the Executive Director of Kinetics Dance Theatre and the Director of Student Life for the School of American Ballet in New York City. His teaching specializes in the modern dance technique of Jose Limon, all levels of ballet, and the Stanislavski acting technique. In 1997 Ken was nominated for the Governor's Award for Arts Educator of the Year.
Ron Giddings (CP Education Director) has directed 25 shows locally in the last ten years. He has trained with Single Carrot Theatre in Baltimore and Double Edge Theatre in Ashfield, Massachusetts, two of the country's leading innovative physical theatres. He has also studied Grotowski Movement Techniques and Poor Theatre style extensively over the last decade. He currently works both creating and implementing the curriculum for the Creative Writing and Movement program at the Anne Arundel County Arts Magnet. He is excited to bring physical theatre and ensemble work to Colonial Players.