Published: 27 December 2016
Hits: 1524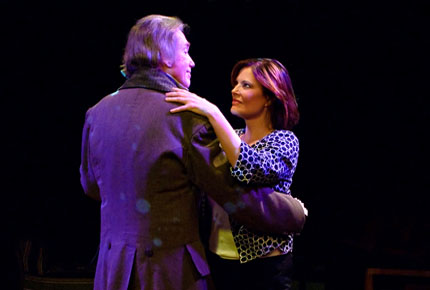 The Colonial Players is pleased to formally announce our 69th Season of shows to our patrons! We have an exciting season in store for you, beginning in September 2017 and running through June 2018!
Shiloh Rules
Written by Doris Baizley
September 8 - October 1, 2017
A dedicated Union nurse and a mysterious Confederate refugee meet on the Shiloh battlefield to compete for the title of Best Female Reenactor of the Year. With their young trainees trying to out-do each other in "authenticity," and a concessionaire egging both sides on, their competition leads them into real conflict with Ranger Wilson, an African-American female park ranger who would rather be anywhere than the year 1862, imaginary or not. As the re-enactment rages out of control, all six women discover that some conflicts of the Civil War weren't left behind in 1862.
"It's not easy finding a new take on something as heavily scrutinized as the Civil War, but Doris Baizley has done it in Shiloh Rules, an inventive comedy with some drama, history and first-aid tips thrown in." - Neil Genzlinger, The New York Times
33 Variations
Written by Moises Kaufman
October 20 - November 12, 2017
A musicologist trying to accomplish her life's work in the face of a debilitating disease and an estranged daughter. A composer coming to terms with his genius. And, even though they're separated by 200 years, these two people share an obsession that might, even just for a moment, make time stand still. Drama, memory and music combine to transport you from present-day New York to nineteenth-century Austria in this extraordinary American play about passion, parenthood and the moments of beauty that can transform a life.
Nominated for 5 Tony Awards in 2009 including Best Play, Best Performance by a Leading Actress (Jane Fonda), Best Performance by a Featured Actor in a Play (Zach Grenier), Best Scenic Design of a Play, Best Lighting Design of a Play. Winner of the Best Scenic Design of Play 2009 Tony Award.
"Mr. Kaufman's script impressively and unobtrusively makes musicology accessible to the uninitiated without professorial condescension." - Ben Brantley, The New York Times
"It's a compellingly original and thoroughly watchable play for today that deserves to remembered." —Talkin' Broadway
It's A Wonderful Life: A Live Radio Play
Holiday Offering
Adapted by Joe Landry
From the Screenplay by Frances Goodrich, Albert Hackett, Frank Capra, and Jo Swerling
Directed by Scott Nichols
November 30 - December 10, 2017
This beloved American holiday classic comes to captivating life as a live 1940s radio broadcast. With the help of an ensemble that brings a few dozen characters to the stage, the story of idealistic George Bailey unfolds as he considers ending his life one fateful Christmas Eve.
"One of the best holiday shows around. This is a fresh and inventive way of reconnecting with a classic story of love and redemption." - Mary Houlihan, Chicago Sun-Times
"A fresh theatrical context that creates just the right kind of retro warmth. If you cry every time you see the movie, you'll be blubbering away right on cue...Guaranteed." - Chris Jones, The Chicago Tribune
Quartet
Written by Ronald Harwood
Directed by Darice Clewell
January 12 - February 4, 2018
Cecily, Reggie and Wilfred reside in a home for retired opera singers in Kent, England. Each year, on the tenth of October, there is a concert to celebrate Verdi's birthday. Jean, who used to be married to Reggie, arrives at the home and disrupts their equilibrium. She still acts like a diva and refuses to sing. But the show must go on in this funny and poignant play.
A poignant play by the author of Another Time, The Dresser and Interperters.
"An unashamed – no, shameless – vehicle for four feisty old troupers whose task is to make us laugh a little, sigh a little and cry a little as they take us into the bittersweet world of facing up to age and mortality." - Paul Taylor, The Independent
Sex with Strangers
Written by Laura Eason
February 23 - March 18, 2018
Ethan is a hyper-connected millennial and star blogger. His first book "Sex with Strangers," a collection of personal blog posts that chronicles his many sexual exploits, is a best-seller. Olivia is a gifted but obscure Gen-X novelist. When the two meet one snowy night, they each crave what the other possesses. As attraction turns to sex, they inch closer to getting what they want. Before that happens, however, each must confront the dark side of ambition as they try to reinvent themselves in a digital world where the past is only a click away.
"A twisty and timely two character drama about lust, love and the complex nature of identity in our digital-dominated era." —The New York Times
"A thoughtful comedy about privacy and publicity. Eason offers resonant observations about how technology both eases and complicates relationships." —The New Yorker
Lucky Stiff
Music by Stephen Flaherty
Book and Lyrics by Lynn Ahrens
April 6 - May 6, 2018
Based on the novel, The Man Who Broke the Bank at Monte Carlo by Michael Butterworth, Lucky Stiff is an offbeat, hilarious murder mystery farce, complete with mistaken identities, six million bucks in diamonds and a corpse in a wheelchair. The story revolves around an unassuming English shoe salesman who is forced to take the embalmed body of his recently murdered uncle on a vacation to Monte Carlo. Should he succeed in passing his uncle off as alive, Harry Witherspoon stands to inherit $6,000,000. If not, the money goes to the Universal Dog Home of Brooklyn... or else his uncle's gun-toting ex!
Tony Award-winning writing team, Lynn Ahrens and Stephen Flaherty's, first produced show. This song writing team was also responsible for: Once on This Island, Ragtime, Seussical, A Man of No Importance, and most recently on Broadway, Rocky the Musical.
Casa Valentina
Written by Harvey Fierstein
May 25 - June 17, 2018

Tony Award winning play set in the Catskills in 1962 - land of dirty dancing and Borscht Belt comedy—where an inconspicuous bungalow colony caters to a very special clientele: heterosexual men who delight in dressing and acting as women. These white-collar professionals escape their family lives to spend a discrete weekends away inhabiting their female alter-egos. When the opportunity to share their secret lives with the world arises, the members of this sorority have to decide whether societal freedom outweighs the risk of potential ruin. Based on real events and infused with Fierstein's trademark wit, this moving, insightful, and delightfully entertaining work offers a glimpse into the lives of a group of "self-made women" as they search for acceptance and happiness in their very own Garden of Eden.