Published: 04 September 2017
Hits: 930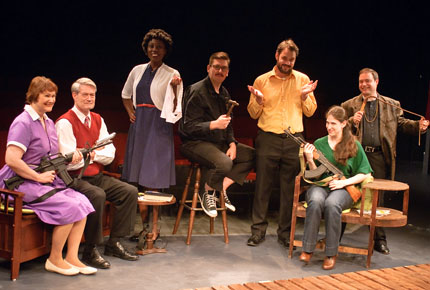 The Colonial Players ​Play Selection Committee has begun the process of assembling a varied and balanced slate of plays for CP's 70th Season (September 2018 – June 2019). The slate will contain 6 shows, in addition to the biennial production of Rick Wade and Dick Gessner's A Christmas Carol.
Once again, the committee is welcoming Director/Play packages for consideration as part of the slate. Up to two packages may be selected for the season slate. Directors may submit any show, except as noted. Of particular interest for Season 70 are plays from classical theater: Greek, Elizabethan, Renaissance and Restoration era, etc. (these genres will only be considered if submitted as a Director/Play package). Please note that the committee is not considering one-person shows for Season 70.
To apply for a Director/Play package, please supply the following:
Name and contact information (email, preferred phone number and mailing address)
Copy of the script/music for the play/musical you are applying to direct. If you don't have a copy please provide the script name, author, and the publishing house
Copy of your resume inclusive of your directing and/or acting experience
All of the above information is due by Friday September 22, 2017. Applications may be submitted by email to This email address is being protected from spambots. You need JavaScript enabled to view it., or by mail to The Colonial Players, Attn: Artistic Director, 108 East Street, Annapolis MD 21401.
All directors considered for a Director/Play package will be required to interview in early October. Please include with your application any conflicts you might have from October 1 through October 14, 2017. Additional information regarding the interview will be provided upon scheduling.
Should your Director/Play package be selected, you will be expected to present at our annual Sneak Peek, currently scheduled for Saturday, February 3, 2018, and to attend our annual Season Kick-off meeting (for directors, designers, consultants, technicians, and crew), tentatively scheduled for Saturday, April 21, 2018. Please let us know in your application if you have a conflict with these dates.
If your package is not selected, the play you submitted will not receive further consideration from the Play Selection Committee. You may then put in to direct any open show selected for the season slate. The Director Selection process for those shows will begin in March 2018.
If you have any additional questions, contact the Artistic Director, Beth Terranova, at This email address is being protected from spambots. You need JavaScript enabled to view it..