---
WEDNESDAY, MAY 8, 2013
OffBook: Playing the Lead
by Jeff Sprague
So, you want to play the lead?
I have done nine main-stage productions (not including the immensely fun 24-hour production of "Months on End"…we should do something like that again, Artistic Team), I have directed a one-act and have been involved in several committees over the course of the last six years at CP. Not to mention, I've done six other shows locally, to include three musicals with big casts. Why am I giving you my resume?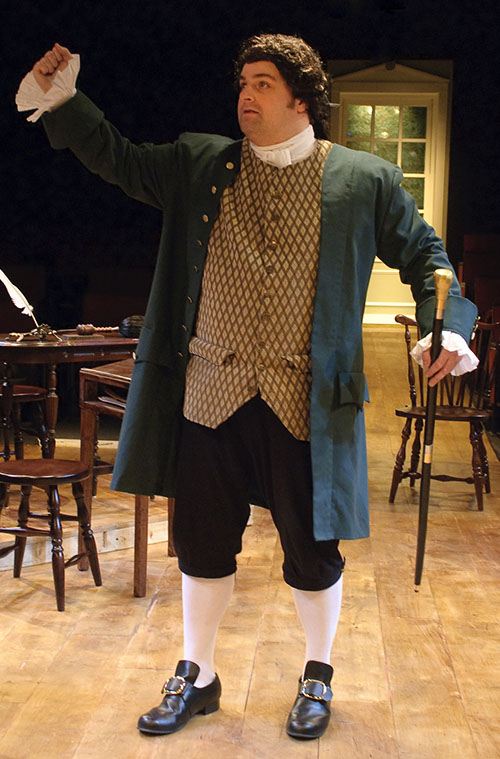 In all of those shows, I have never, up until my last production, had the coveted "last bow." You know what I mean, theater people. Yes, that thing all of us actors want. The "woos" from the adoring public, the media attention, the underwear piling-up on stage…er, well, maybe not the last bit. Still, most performers hope to one day be lucky enough to have the chance to take that last bow. In "1776," I got it. Was it everything I hoped it would be? Well, it didn't suck, I can tell you that. In fact, I think that playing John Adams may have been the theatrical highlight of my "career" as an actor (the quotes are fully intended, as this is, and will always be, nothing more than a hobby for me). Still, for those of you young aspirants who have yet to have such an opportunity, I think there are some things one learns about community theater from playing the lead that are not readily apparent in other roles.
For one, to get that last bow, especially in a musical with a big cast and a lot of technical elements, you are going to be needed at EVERY rehearsal for over two months before the show opens. Also, while your castmates may only have to attend an hour or two on Saturday and Sunday, you can be assured that you will be there for the full eight hours (four each day). Between my day job and "1776," I really haven't had much time to myself since auditions in January. Because I loved playing John Adams, this didn't bother me. A point to be made, though, is that if you are given the opportunity to lead a cast, you have to be willing to give all your free time to it for a period of months. You can't have conflicts. You CAN complain from time to time, but if you do, you have to be willing to have people call you out on it. You volunteered for it, you knew what it involved, and you now have a responsibility to the rest of the cast and crew to know your stuff inside and out. This leads me to my next point: if you lead the cast, you have to be off-book before everybody else. More than likely, you'll have lines that'll cue most other actors. Their lines are just as important as yours, and if you aren't on top of your lines (and songs, if applicable), it sets a poor example that can lead to grumblings. Moreover, if you are really off, it can lead to a loss of confidence about the show's readiness from the director or other production staff, and the downstream, ripple-effects into the cast can be catastrophic.
You have to have thick skin. Critics are going to talk about you, and it might not always be good. Opinions are, to use the family-friendly version, like elbows; however, to put your full efforts into a show and then have it nitpicked can be a trying exercise in restraint. I have complained about critics "missing the point," but I've now come to accept that you simply can't please everyone (especially those with a forum for their opinions). You just have to give it your best.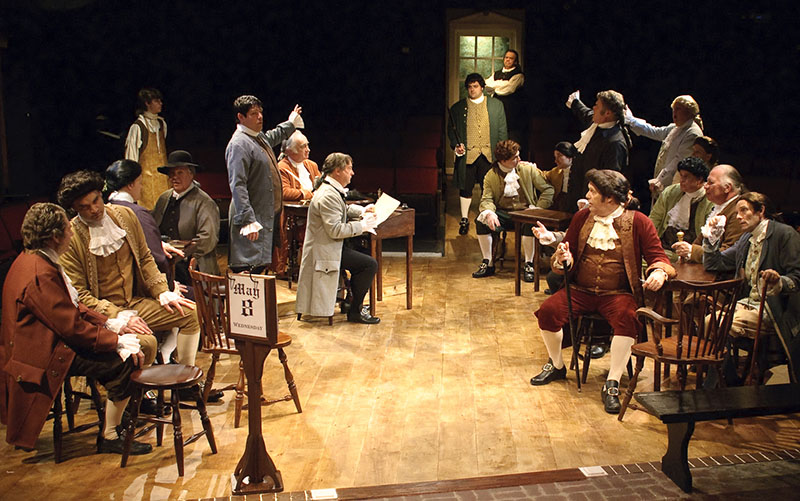 Lastly, and most importantly, you have to realize that IT IS NOT ABOUT YOU. "1776" had a cast of 27. Every one of the characters played an important role in telling the story, and while Adams was certainly a large force, he was one part among many. A leading actor must realize that he is still only a part of the production. He/she must take notes, must be courteous in the rehearsal process, and must NEVER, EVER give anyone else in the cast a note about anything. It is an honor to play the lead part in a show. It is an honor that is not a right. The director can replace anyone, and while your hard work should be rewarded by the audience's reactions, you can't ever forget that you are just one piece of the pie.
I'm nothing special as an actor. I'm very fortunate that Beth Terranova trusted me with John Adams. That I was cast was as much a factor of luck as it was ability, and I was not a "shoe-in" for the role by any stretch. There was another very talented actor up for the part, and I had to endure a post-audition interview with the director regarding my view of the character before she trusted me with Mr. Adams. I'm happy she did, but I don't pretend, by any nature, that I was entitled to it. That's something I really do want to get across. If you are a community- theater actor who has auditioned time and time again, and if you have not gotten the "last bow" yet (took me six years, and I've been told "no" for lead parts on several occasions), make a promise to yourself that when you do get it, you will honor it: the show, the director, and the rest of your cast. Know that the role is yours to lose, and that it is a privilege to stand where you stand. If you realize that, and if you put in the work, the "last bow" becomes that much more special. I'm going to paraphrase it, but there is a famous quote about being able to see from a great height because one stands on the shoulders of giants. Not that putting on a community theatre production is equivalent to curing malaria or something like that, but I know that being able to see the audience from the last bow in "1776" was only possible because of the 26 "giants" onstage with me (and countless other "giants" designing the tech aspects and producing the show). I shall always be grateful.
Next month, I promise to write about something a little less focused on my own journey in community theater, and more on what CP is up to. Everyone should check out "In the Next Room," playing this month, and I hope to include interviews with some of the team involved in that production after I get a chance to see the play. As I write this, they are firmly entrenched in the rehearsal process and getting ready for opening. Break a leg!
~Jeff