---
SATURDAY, FEBRUARY 2, 2013
OffBook: Trying
by Laurel Kenney
Hey folks, it's Laurel, your friendly CP editor here. It's been awhile since you last heard from me. Karen has been doing a fantastic job as the official CP blogger this past year, but since she's one of the two actors in our production of "Trying" opening February 8, we figured it might be nice to give her a little break. Not too little, though, as I'll be including an interview with her in this particular entry. I figure, as my best friend, she's obligated. :-)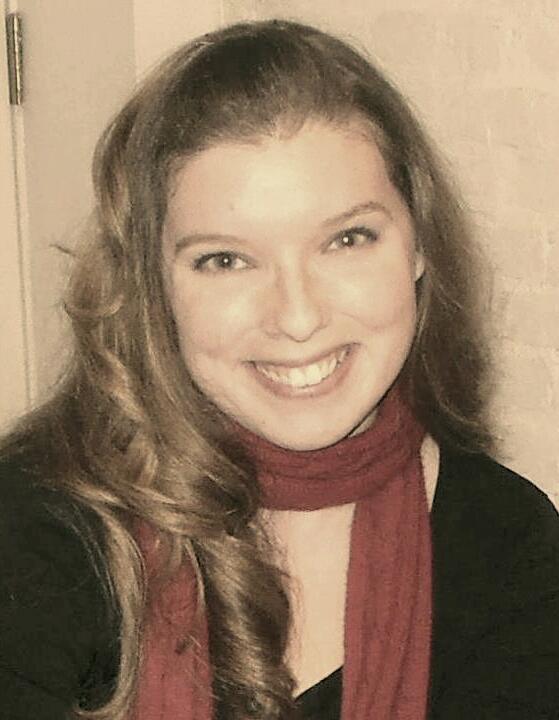 I actually volunteered to write the blog this month because of how incredibly enamored I am of the play, "Trying" by Joanna McClelland Glass. I read it a few months ago and immediately fell in love with the elegance of the writing, the richness of the plot, and the endearing intelligence and wit of the characters. The story is based on the playwright's real-life experience as Judge Francis Biddle's secretary in the last year of his life. Karen Grim (who plays Sarah) and Michael Dunlop (who plays Judge Biddle) have a tough job to do, as they are the only two characters in the entire play. And they both remain onstage for the majority of the show. In addition, the play takes place entirely in one room. Given these circumstances, if you guessed that the show must be incredibly dialogue-heavy, you would be right. Most of the dialogue consists of the back and forth, ping-pong effect of two very quick, intelligent people not quite seeing eye-to-eye. Judge Biddle is too tired and too set in his ways to make the time to truly care about anything Sarah has to say. He wants her to fulfill the role of the secretary he has in his mind, which is a role Sarah is not equipped to play. She can tolerate his grouchiness, his lack of focus, and even sometimes his condescension, but instead of quitting when she is bullied as the others before her have done, she stands her ground. The story lies in the struggle between the two as they each try to put aside just enough of their own egos to tolerate, respect, understand and finally accept each other.
This gets me thinking about New Year's resolutions. I don't typically make resolutions because I have enough self-awareness to know I will never stick to them. However, Karen's New Year's blog inspired me and had me pondering my own shortcomings. Something that I'm always working on is attempting more patience with other human beings – also compassion, understanding, and listening skills. For those of you who have never met me, you should know that I could possibly be the most impatient person in existence. Essentially, what it boils down to is that I want things done my way, all the time, and quickly (much like Judge Biddle). For the most part, if this doesn't happen, it's because another person prevented it from happening. This is never ok with me. And I realize that this particular expectation is completely unrealistic. People will never always do things my way because they want to do them their way. So, in addition to the reasons listed above, I felt particularly drawn to this play because of the theme: "trying"— trying to understand another human being whose personality, interests, background, and even age are so at odds with your own that the test of not only coexisting, but maintaining a successful relationship seems a nearly insurmountable challenge.
I asked Karen if I could interview her because I needed help understanding (from Sarah's and Karen's perspective) how it might be possible for two people who are so unalike to ultimately come to a mutual understanding.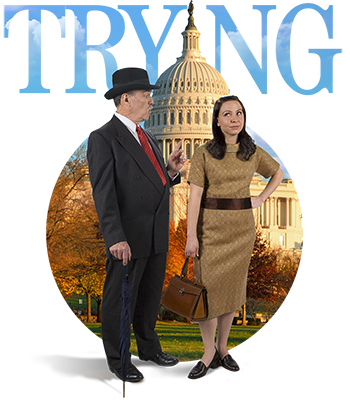 Laurel Kenney: We are talking about your character, "Sarah Schorr," specifically her relationship with Judge Biddle among other things. One of the things that I wanted to talk about was the fact that at the root of this play are the communication issues between the two characters. Do you believe that their communication issues stem from one side or the other, or do you believe that they're more balanced?
Karen Grim: I think, for the most part, they're more balanced. And I think that stems from their differing backgrounds and the different places they are in their lives. He's 81 and she's only 25, and she's basically just begun her journey. Also, it's the '60s so she's going through kind of a revolution; society is changing its views on a lot of different things: Civil Rights, Women's Lib, etc, and she's very much a liberal and a feminist, and he doesn't know how to process that because he's very old school. He's from a different generation, and he expects women to act a certain way. And she expects that because he's a Democrat, he's going to act and react to her in a different way than he actually does. So, I do think it's balanced. I think that they both have difficulty interacting with each other because of their differing backgrounds.
LK: How much of that do you think specifically has to do with age?
KG: I think it's a pretty big factor. She is only 25, and she hasn't experienced the world the way that he has. So, yes, I know this is very condescending, but he has learned so much more in his life than she has. They argue a lot in the beginning despite the fact that he doesn't want to argue. He feels that there isn't much point because no conversation that they'll have is a conversation that likely he hasn't already had. That's hard for her because she feels like she has things to say that could be understandable or relatable to him, or maybe even influential. She feels that she's different than all the other people, secretaries he's talked to in the past, and she's offended by the fact that he doesn't care to have meaningful conversations with her because he doesn't feel she can offer anything of value, which is not necessarily the case.
LK: Judge Biddle is always talking about how he can't be bothered with "this," he can't be bothered with "that," he's in the last year of his life, etc. Do you think that his preoccupation with his own mortality, his impending death (according to him) impacts their communication?
KG: It does. He says that he doesn't have the resources or the inclination/ faculty to be able to allow himself to care too much about her because he just doesn't have the room in his head. He tries to care. He asks her about her life. He knows, I think, how her relationship with her husband is, and he knows about her past. But he still can't allow himself to learn more about her than peripheral things because that's all he can handle. It's enough for him that he knows enough about her that by the end he can at least understand her. I think that's enough for her too. She understands what he's going through; she gets it.
LK: So, emotionally, he feels like he doesn't have enough room to really take on another person in his life? Because he doesn't have much time left anyway.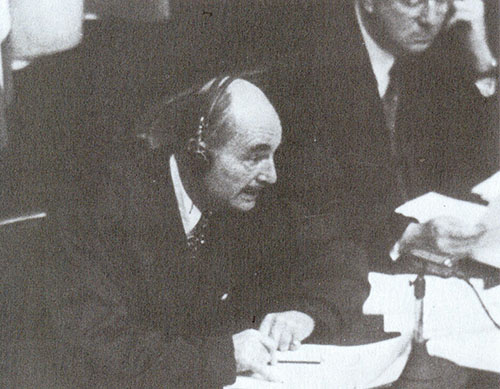 KG: He can't take on another person. He feels like this is his final year. He says that in November upon their very first meeting: that this is the last year of his life. She probably thinks that he's overreacting and is saying those things because he's grumpy. But he's not wrong; he says those things because they're true. In the last year of his life, he spends a lot of his time reliving the past: memories, regrets, etc. Sarah senses and knows that he doesn't have the room in his head and heart to be able to learn too much about her. He learns enough that she respects him and they develop a strong bond and a nice relationship. She doesn't begrudge him not making a huge effort because she knows he just can't handle it.
LK: How similar do you think you are to Sarah, and was it fairly simple for you to get into her headspace or did you find yourself struggling with it?
KG: Well, actually one of the hardest parts for me with the character was the Canadian accent; so if you come to the show, forgive me if I don't sound very Canadian, eh? But in terms of our personalities and interests, I did struggle a bit. Sarah and I are different in some ways, and we're the same in other ways. For instance, she's from Saskatchewan, a western province in Canada. It's prairie, wheat country, so she comes from a very kind of hard, living off the land, existence. Her entire life she's been used to working very hard. I'm from a lower-middle class family in West Virginia. My mom was a single mother (my dad died when I was seven), so a lot of things happened to me in my childhood that allowed me to become a really strong, very independent person, and Sarah is very much like that. She's hardworking, strong, she doesn't back down from Judge Biddle when he puts her to the test, and she draws the line and doesn't allow herself to be bullied, and I have been raised to be that exact same way. I think Sarah is a lot like my mother – extremely salt of the earth, very tough without being a downer. She's optimistic, which is also something that I really am. She's willing to try to make it work, because she made a promise, and that's how I was raised as well.
The differences between the two of us were subtle, but they were strong enough that they were hard for me. First, there were the physical differences. I don't necessarily stand up straight. When I'm talking to people, I don't always look them in the eye. Sarah does, and she leads with her chin, she's confident with a straight back, she's not insecure, and she has overcome so much that she's become such a formidable woman, and that's not something I would really label myself as. Yes, I can be confident, but for the most part, I think I'm a bit softer, more demure, I guess, in comparison with Sarah. I'm not as battle-ready. Second, I felt like although I came to recognize that Sarah truly was a passionate person, her passions were very different from my own. They manifest themselves differently, and we express them differently. She is a writer at heart, and I'm not; she has a way with words, and a way of seeing the world around her that she uses in her writing that I don't necessarily get because that's not what I do. My passions are in theater, acting, and wondering what makes other people tick. I try to understand what it would be like to walk in someone else's shoes. That's what acting is about for me: trying to understand people better so I'm able to become different characters. That's where my passion lies, and Sarah's is just different. So when she would talk about something she's really passionate about, I kind of floundered because that's when you really see her. I was like, "Why would she say these things?" I talked to my director about it. There's this moment when she describes being at home in Canada, and I just didn't get it. Rehearsal after rehearsal, my director would say, "I need more from you, give me more, make it bigger." At first I didn't think that was how Sarah would feel, but it was how she would feel and react. She is a very passionate person when it comes to the beauty around her. And despite everything that's happened to her in her life, she's become this very optimistic, very open, sensitive being, and most of the time she pushes past that to do her work because she's a very hardworking person, but when she has the time to be creative, and to talk about the things that make her passionate, she is so much more open. She gives more of herself in those instances. They're fleeting, but they're there. Yes, she is this very practical person, but there's more to her than that.
LK: Do you feel (without giving away too many details) that ultimately Judge Biddle is able to understand Sarah as a person? Does he "try" enough to truly understand who she is?

KG: Not in the beginning. In the beginning, he's actually trying to mold her into this person that he wants her to be. And she allows some of that to happen. She recognizes that she has to play along with a little bit of that. So, for the most part, I don't think he tries to really understand her and attempt to do things her way until she lays down the law and says, "These are the things that you have to do if you want me to continue to work here," and I think he realizes that especially in the last year of his life he just can't even fathom having to hire someone else and having to go through the entire process again. Something that was discovered when we were researching Judge Biddle was that on his speed dial was something called "Kelly's Girls" which was a temp service. He had to call them so often for secretaries because no one would stay for very long. So because he couldn't process having to hire yet another person, he was willing to do things Sarah's way and understand her better once she refused to back down, and once he realized that she was just as stubborn as he was, if not more so. He was able to overcome his own desires to make it work.
LK: And on the same topic, do you think that ultimately Sarah was able to understand Judge Biddle?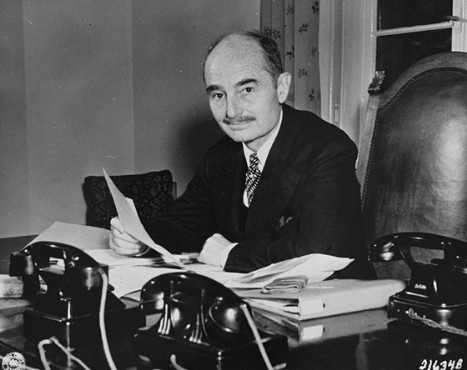 KG: I do think so. Katherine, Judge Biddle's wife, gave Sarah a lot of background on him, and she [Sarah] also read his biography so she knew who he was going in. I don't think she was as prepared for his grouchiness and his lapses in memory. I don't think those were the things she prepared herself for, but I do think she understood what he was going through. Based on the play (I don't know if this is true in Joanna McClelland Glass's actual life), it says that Sarah helped her grandmother when she was sick and ailing so she learned a lot from that which allowed her to be in a place where she could help Judge Biddle manage his ailments and recognize the signs of deterioration so she could ultimately understand him.
LK: Do you feel like you have ever had a Sarah/Judge Biddle situation in your life where you maybe had to take on someone who didn't have any desire to understand who you were or even attempt to care about your needs?
KG: Yes, but not to the same extent. I have met a lot of people who I didn't see eye to eye with politically. I have had to get on my soapbox a time or two to express or defend my beliefs. And I did work at a doctor's office where I had elderly patients who weren't very patient themselves. That was often difficult because despite not being able to completely understand what they were going through, I could still tell that they were hurting and all they wanted was help. So, in those situations, you have to allow them to say the things they need to say, but you have to stand your ground, and you can't let them overrun you if they're being too demanding. They'll respect you more for it.
LK: How much, if at all, did your awareness of the fact that these characters are based on real people affect the approach to your development of Sarah?
KG: It definitely impacts how the roles are played because they are real people, and you can't just take artistic liberties and end up making the people caricatures, but you have to realize that this is a play, and it's not exactly historically accurate in some instances. I did do a little reading about Joanna McClelland Glass, but I didn't let it change who Sarah was because Sarah and Joanna are different. If Joanna had wanted Sarah to be exactly like her, she would have made the character's name Joanna rather than Sarah. I think because she [Ms. Glass] allowed herself to step away a little bit and create the character she wanted Sarah to be, it then allowed me to take some liberties and develop the character based on what's written and not on Joanna McClelland Glass herself.
LK: Finally (based on your experience in this specific play), when two people are facing what appear to be insurmountable differences, if they try hard enough, do you think it's possible for them to move past those differences and eventually understand each other?
KG: I do think so. It is definitely possible. I don't think anything is insurmountable when it comes to trying to relate to someone else. I think you can always find a common denominator, a common factor, something relevant, even if it's something small. I think it's possible to meet people from various walks of life and respect one another enough to be able to come together to develop a relationship.
Thanks for taking the time to read, everyone, and please come out to see Karen and Michael Dunlop in this fantastic show directed by Darice Clewell. If, like me, you sometimes find yourself struggling with patience, understanding, or compassion towards other people in your life, you may find this story inspiring.
Until next time,
Laurel