---
THURSDAY, SEPTEMBER 1, 2011
Obsession: The High Cost of Art
by Pat Reynolds
"I've been called many names over the years like perfectionist, difficult, and obsessive. I think it takes obsession, it takes searching for the details for any artist to be good." -Barbra Streisand
Dictionary Definition of "Obsession"- Compulsive preoccupation with a fixed idea or an unwanted feeling or emotion, often accompanied by symptoms of anxiety.


Obsession. The mere mention of the word conjures images of crazed individuals, sequestered in private rooms, tormented by manifestations of the source of their obsession. Paraphernalia, collections gone wild, walls papered by pictures, news articles, and unanswered letters become the personification of human objects of the obsession. A drug, a person, an idol, a desire so strong it begins to eat at the walls of sanity. Objects of obsession come in many forms, but the symptoms, and sometimes the results, are the same. These are the rare nut jobs, of course, the ones who hit the talk show circuit. There are everyday people, too, who have perfectly reasonable obsessions. People like you and me - artists, writers, dancers, musicians...actors. Our vocations seem to draw more than our fair share of obsessive personality types.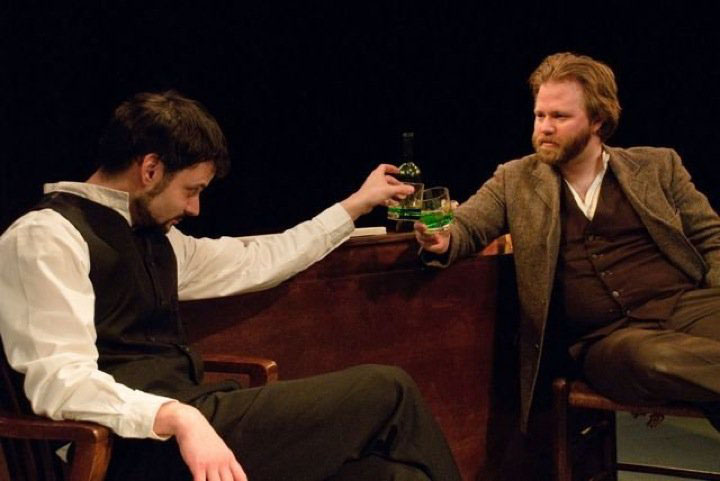 Now why is that? What is it about our particular corner of the world that seems to so frequently attract the obsessed and often manically driven lost souls to our sandbox? Perhaps we are drawn to the overly romanticized concept of the artist, poet, or actor as a "dark individual" with mysterious character and motive, with extreme passion for life, love, and creativity. Perhaps we unknowingly feel the dark myth and ideal. It doesn't happen to all of us. Why can some artists create without obsession, without second thought, while others get fixated on the details of their work, unable to let go until their product reaches perfection? As I sit here contemplating the difference between these two types of artists, I realize I'm far more interested in the latter than the former, because as I know first hand, with great obsession comes great cost.
We don't have to look far to find a number of actors whose body of work is considered brilliant, bordering on genius even, yet who were deeply troubled in their private lives. Often it's this darkness that is credited as being the very thing that inspired the brilliance. It's also this vicious cycle of "disturbing, destructive, and obsessive behavior helping to create perfection in art," which has lead to tragic ends. James Dean, Heath Ledger, Montgomery Clift, Marilyn Monroe, Peter Sellers, and even the father of modern stage and film acting, Marlon Brando, battled with self-doubt and perfectionism. obsessive behavior and the endless pursuit of perfection creates a need for escape that manifests itself in a variety of venues - drug and alcohol abuse, depression, weight issues, erratic decision making, womanizing and reclusive behaviors, to name just a few. These become the walls the artist builds and hides behind to get away from the pain, stress, and constant uncertainty inherent in the expectation of fame and inspired creation.
Now, it's somewhat difficult to relate to celebrities or famous actors and artists, being that many of us live "normal," simple lives, and acting or the artistic endeavor is merely a hobby, something we do for fun. For a few of us, however, even at the community theater level, acting and creation of art means far more than something to do on the weekends. For some of us, the creative impulse is a NEED that cries out with a voice that must be answered. Occasionally, even at the local level, this need that compels us to create can also drive us towards madness and obsession. I don't presume to speak for others - they can agree or not. I will simply speak for myself since the consequences of the story of obsession that follows were of my own creation.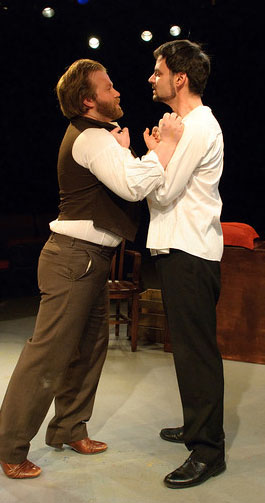 "We are the makers of our own problems." For those who know me well, it's easy to see how the word obsession and my name often go hand and hand, especially when it comes to my acting and character creation. However, for those of you who only know me as "that guy on stage," allow me to tell you the story of how my obsession with my art has caused much pain in my past and present.


Let's take my most recent performance in the shape of things as the basis for this story. Back in January of 2009, I became aware of the aforementioned show when CP released the 2010/2011 season slate. Upon researching the play I immediately became very taken with the show's lead character Adam and his flaws and personality traits as well as his relationships with the other characters. There were so many little nuances and flaws within the character that I could easily relate to moments in my own life and past relationships. It wasn't long before I was falling under the spell of obsession with the role. A role, mind you, that wouldn't be cast for close to a year. Over the following months, I was cast in several different shows, but I never took my eye off the prize, so to speak. I only told my closest of friends about my interest for fear that, irrational as it may have been, too many others would find out about my interest in the role. As auditions crept nearer, my obsession bore deeper, to the point of making the decision to change my entire appearance to match that of the character I hoped to portray.
Four months prior to auditions, I was a thirty-one-year-old, 190lb, physically unfit, two-pack-a-day smoker, who often socially drank. I decided all that had to change, immediately and drastically! I began by purchasing gym equipment and a weight set. I cut out all alcohol and bad/unhealthy foods. I started to take Chantix to quit smoking, which worked quite successfully at the time. I changed to a low fat, low carb, high protein diet. I started running everyday, I dyed the gray out of my hair, and I began a tanning regimen. I had four months to become a younger, more muscular, physically fit and healthy me. I was not only willing, but also determined to change my entire being for a chance at a role I wanted more than life. I had become the poster boy, the very definition of obsessive.


So what? So I decided to change my looks - that's not all that uncommon, whether for an audition or just because. Sadly, my obsession didn't stop there, didn't stop even once I was lucky enough to be cast in the show. As rehearsals began, many personal relationships in my life began to suffer. I pushed old and new friends to the wayside, no longer having or making time to spend with them. As selfishness took root, I suddenly and without warning cut off contact with a lady I had recently begun to nurture a friendship with. Needing to focus on rehearsals and workouts, I no longer set aside time to see my newborn niece, let alone the rest of my family. In my mind, my behavior was justified and all about focus. I had to be available at a moment's notice for rehearsals, runs, and workouts - as many of them as possible. Slowly, sleep became less and less important; I was lucky to get three to four hours per night between working two jobs and fitting in the all important workouts and rehearsals. My eating habits began to slow to the point of eating only one massively protein packed meal per day. When I wasn't in the middle of all of the activities above, I was overly obsessing and stressing over the script, the blocking, and the sound of my voice. Sometimes I'd stay up all night going over a line, again and again until it was just right. Everything had to be perfect, because this was "That Role," the one that comes along so very rarely that past performances pale in comparison; one that raises the bar for every artistic endeavor in the future. This is the stress and baggage that I brought into my life, all in hopes of creating a perfect performance, and all in spite of the many warnings from my family and friends who were concerned about the toll my obsession was visibly taking on me.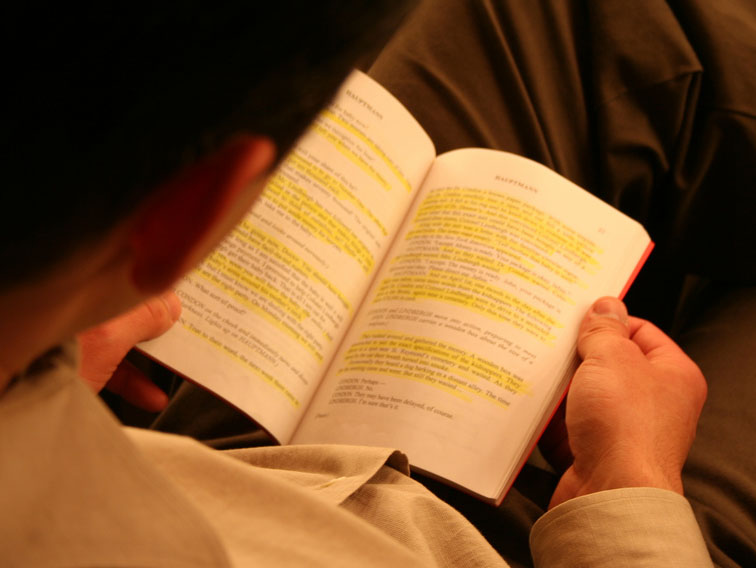 In the weeks between Opening Night and Closing Night, reviewers, patrons, friends, and my own internal critic left no doubt in my mind that all the work getting to that point was worth it. I knew instinctively that this was quite possibly the best performance I had ever given. After Closing Night, I felt all the changes and sacrifices were justified, and I was confident I could (and in fact did) initially return to my normal life. Normal didn't last. Yes, I settled back into my old routine, the workouts slowed down, and I definitely had all the free time in the world to spend with my friends and family again. Unfortunately, the stress didn't stand down. I began to suffer from panic attacks and started smoking again. I was also getting sick more often, thanks to the low immunity caused by months of an unbalanced diet and lack of sleep.
The culmination of my obsessive behavior imploded exactly one month after Closing Night. With acute abdominal pain, I was rushed to the hospital and diagnosed with an ulcer that had ruptured my stomach. Following emergency surgery and a lengthy recovery, I learned the hard way: there are sometimes great consequences to being overly obsessed with one's art. Luckily, my situation served as a grand eye-opener for me. I simply couldn't continue certain behaviors in the pursuit of my art. Even knowing all the stories of troubled artists who succumbed to their obsession, it took my own pain and suffering to wake me up to the realization that if I didn't change my path and my "method" of creation, I was headed down a similar road.
The truth is, there are far better ways to reach creative nirvana, and they don't involve self-destructive behaviors. Obsession can be a good thing when used effectively with consideration to safety. Commitment bordering on obsession can definitely benefit an individual artist under the right conditions. History proves, however, that obsession also can be easily abused and corrupted, and in that corruption a danger exists. If friends, family, peers, or even one's own self-awareness and conscience are screaming out warnings, pay attention. I learned a great lesson from my experience - an experience I know now that I didn't have to go through if only I had listened to my friends and others around me who saw what I couldn't.