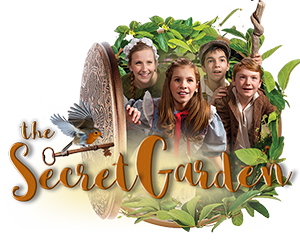 Written by Marsha Norman
and Lucy Simon
Directed by Lois Evans
Produced by Charlotte Robinson
& Mary Beth Yablonski
Performance dates:
April 8 – May 8, 2016
Run time: 2h 15m
This enchanting classic of children's literature is reimagined in brilliant musical style by composer Lucy Simon and Marsha Norman, the Pulitzer Prize-winning playwright of 'Night Mother. Orphaned in India, 11 year-old Mary Lennox returns to Yorkshire to live with her embittered, reclusive uncle Archibald and his invalid son Colin. The estate's many wonders include a magic garden which beckons the children with haunting melodies and the "Dreamers", spirits from Mary's past who guide her through her new life, dramatizing The Secret Garden's compelling tale of forgiveness and renewal.
Additional information about the The Secret Garden author, director, cast, and staff will be available soon!
To download the production postcard for The Secret Garden to share with your friends, visit the Downloads page of our website and look under the Production Postcard heading. A PDF of the production playbill is also available in the same location.
Click here to view The Secret Garden production photo gallery! The gallery features newly added archive shots taken following our matinee performance on April 10, 2016! Production-at-Work photos are also available, showing our extensive tech-in period.
And the reviews are in...
(Click the reviewer logos below to read the full reviews where available online.)

"...blooming with visual delights and rich vocals that envelop the audience and fill the theater with joy."

"See this chestnut with someone you love, young or old, and bring a han"

"...an experience that an audience will take joy to indulge in, thanks to the work of Colonial Players' cast and crew."