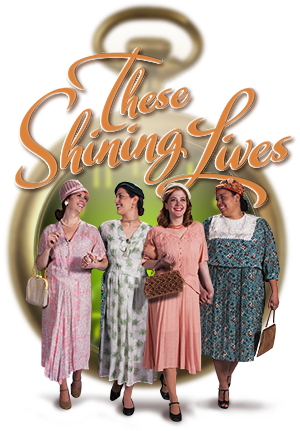 Written by Melanie Marnich
Directed by Craig Mummey
Performance dates: May 9 - 31, 2014
Run time: TBD
This poetic play tells the true story of four young women who began working in the Westclox Radium Dial Company in Ottawa, Illinois near Chicago in 1922, at the time when women had just won the right to vote and the license to smoke and to work outside the home almost without scandal. The company employed over 1000 women for 11 years to paint the numbers in the radium powder on the faces of their clocks and watches. Catherine Donohue and her co-workers develop deep, supportive friendships as the years go on. Finally they must confront two truths that both they and the company have been evading for years. They are developing serious illnesses and their work with radium is the cause. The decisions that the four women, particularly Catherine, make in response to these facts ultimately resulted in a 1938 landmark Supremem Court case that changed Illinois law to make companies responsible for the safety of their workers. Melanie Marnich's play illuminates the lives and spirits of these ordinary women, shedding light that flares into incandescence as their story ends.
To download the production postcard for These Shining Lives to share with your friends, visit the Downloads page of our website and look under the Production Postcard heading.