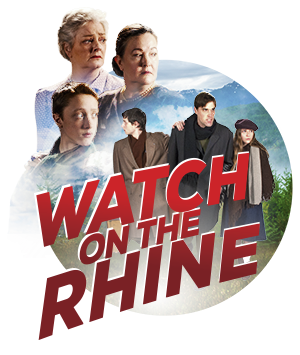 Written by Lillian Hellman
Directed by Terry Averill
Performance dates:
Feb 27 - Mar 21, 2015
Run time: 2h 30m
The first in our American Standard series, this play takes place in America in 1940, before Pearl Harbor drew America into World War II. Sara, daughter of a privileged family, has returned home after 20 years away. She had married a German citizen and was raising her three children in Europe as he had become intensely involved in the anti-fascist efforts in Germany opposing the rise of Hitler. They have returned to her home for safety and rest, but he will need to return to Germany to continue his dangerous underground work. He is recognized by a houseguest of the family, and the violent outcome of that discovery shocks the sheltered American family out of their ignorance, bringing home the struggle that is going on in Europe.
To download the production postcard for Watch on the Rhine to share with your friends, visit the Downloads page of our website and look under the Production Postcard heading.
Content Warning: During performances of Watch on the Rhine, actors utilize lit tobacco-free, nicotine-free, herbal mixtures for cigarettes and pipes.
For more information about Watch on the Rhine, including information about the author, director, cast, and staff, click here: