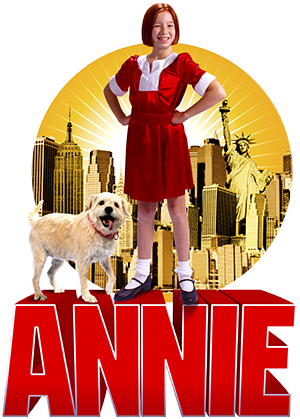 Book by Thomas Meehan
Music by Charles Strouse
Lyrics by Martin Charnin
Directed by Joe Thompson
Performance dates:
Nov 8 - Dec 7, 2013
Run time: 2h 30m
Based on the Harold Gray comic strip "Little Orphan Annie," this heartwarming musical in two acts takes place in the beginning years of the 1930s which were some of the hardest years in American history due to many economic events -- the stock market crash; the Dust Bowl; the Great Depression. Americans needed hope and a reason to believe that things were going to get better, and a young red headed orphan name Annie showed that optimism could be contagious. With the help of the other girls in the Orphanage, Annie escapes to the wondrous and magical world of NYC. In adventure after fun-filled adventure, Annie foils Miss Hannigan's evil machinations and befriends President Franklin Delano Roosevelt. She finds a new home and family in billionaire Oliver Warbucks, his personal secretary Grace Farrell, and a lovable mutt named Sandy.
For more information about Annie, including information about the author, director, cast, and staff, click here:

To download the production postcard for Annie to share with your friends, visit the Downloads page of our website and look under the Production Postcard heading. A PDF of the playbill is also available in the same location under the Production Playbills heading!