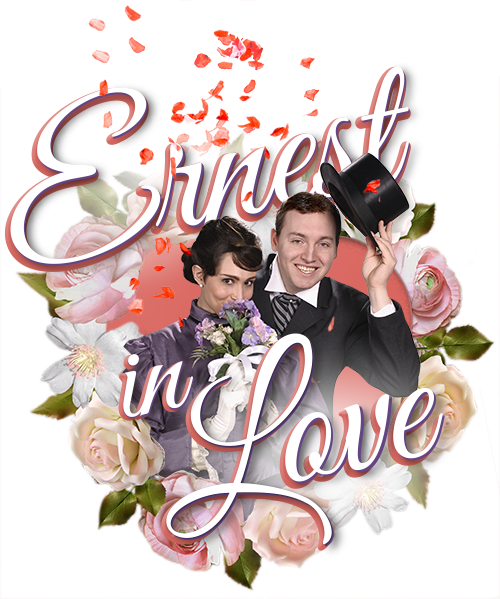 Book and Lyrics by Anne Crosswell
Music by Lee Pockriss
Directed by Rick Wade
Performance dates:
Apr 17 - May 16, 2015
Run time: 2h 25m
Some consider Oscar Wilde's The Importance of Being Earnest the funniest play written in English. CP seeks to capture all its wit and piquant satire in this musical version. The story is of the courtship of two affluent young ladies, Gwendolen Fairfax and Cecily Cardew, by the young self-indulgent gentlemen, Jack Worthing and Algernon Moncrieff. Each man has been slightly dishonest in order to get what he wants, and the struggle against major challenges: the formidable Lady Bracknell, Gwendolen's mother, and the truth itself. When all is revealed to everybody, even Jack, it leads to an unexpected happy ending and three weddings!
To download the production postcard for Ernest in Love to share with your friends, visit the Downloads page of our website and look under the Production Postcard heading.
For more information about Ernest in Love, including information about the author, director, cast, and staff, click here:

Updated!! Click here to view the Ernest in Love Production @ Work photo gallery! The gallery features shots of our production team hard at work hanging lights, deconstructing the previous show's set, and preparing to build the new set for our spring musical. Publicity photos for Ernest in Love are available here. Production Archive shots will be available online part way through the run of this production.
And the reviews are in...
(Click the reviewer logos below to read the full reviews where available online.)

"Ernest in Love at The Colonial Players in downtown Annapolis is a witty, intelligent and imaginative staging of the musical, which had its Off Broadway debut in 1960. As directed by Rick Wade and choreographed by Lindsay Zetter, the production is top-notch as is the cast."