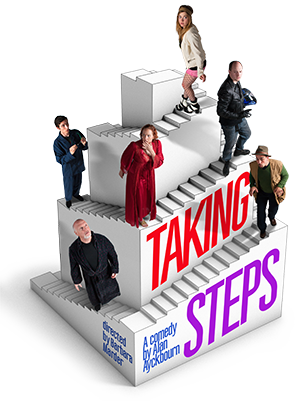 Written by Alan Ayckbourn
Directed by Barbara Marder
Performance dates:
June 7 - 29, 2013
Run time: TBD
Alan Ayckbourn responded to a request for a door slamming farce for a theater in the round with this play which has the three floors of an old Victorian home placed on one level, stairways, closets and all. In the course of one hectic night and morning, with continual running up and downstairs and in and out of rooms, two couples, a solicitor and realtor, each immersed in a personal problem, try to sort themselves out. All this happens in a highly ingenious and original setting in which all the rooms, passages and stairs are on a single level. Did we mention the ghost?!
To download the production postcard for Taking Steps to share with your friends, visit the Downloads page of our website and look under the Production Postcard heading.