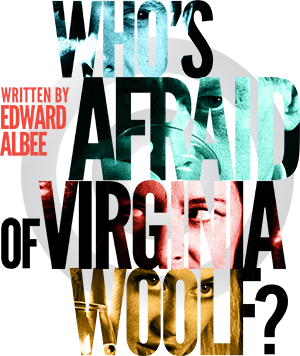 Written by Edward Albee
Directed by Craig Mummey
Performance dates:
October 21 - November 12, 2016
Run time: 3h 30m
George, a professor at a small college, and his wife Martha have just returned home, drunk from a Saturday night party. Martha announces with liberal profanity that she has invited a young couple—an opportunistic new professor at the college and his shatteringly naïve new bride—to stop by for a nightcap. When the couple arrives the charade begins. The drinks flow and inhibitions melt. It becomes clear that Martha is determined to seduce the young professor, and George couldn't care less. But underneath the edgy banter lurks an undercurrent of tragedy and despair provoked by a secret that has seemingly been the foundation for their relationship. In the end, the secret is exposed revealing the degrading mess they have made of their lives.
To download the production postcard for Who's Afraid of Virginia Woolf to share with your friends, visit the Downloads page of our website and look under the Production Postcard heading. A PDF of the production playbill is also available in the same location.
Additional information about the Who's Afraid of Virginia Woolf author, director, cast, and staff is available here:

And the reviews are in...
(Click the reviewer logos below to read the full reviews where available online.)

"The amazing cast of The Colonial Players' Who's Afraid of Virginia Woolf? builds up tension so slowly you almost don't notice till it becomes explosive..."

"There is psychological depth that boggles the mind unfolding in Albee's work. Colonial Players has given it a good turn, with fine performers and a driven director."