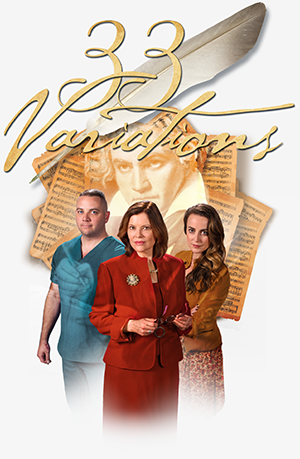 Written by Moises Kaufman
Directed by Terry Averill
Produced by Shirley Panek
and Judi Wobensmith
Performance dates:
October 20 - November 12, 2017
Run time: TBD
A musicologist trying to accomplish her life's work in the face of a debilitating disease and an estranged daughter. A composer coming to terms with his genius. And, even though they're separated by 200 years, these two people share an obsession that might, even just for a moment, make time stand still. Drama, memory and music combine to transport you from present-day New York to nineteenth-century Austria in this extraordinary American play about passion, parenthood and the moments of beauty that can transform a life.
To download the production postcard for 33 Variations to share with your friends, visit the Downloads page of our website and look under the Production Postcard heading. A PDF of the production playbill is also available in the same location.