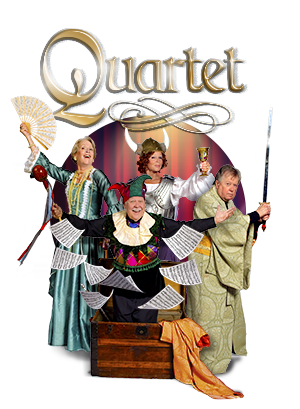 Written by Ronald Harwood
Directed by Darice Clewell
Produced by Kaelynn Bedsworth
Performance dates:
January 12 - February 4, 2018
Run time: 2h 30m
Cecily, Reggie and Wilfred reside in a home for retired opera singers in Kent, England. Each year, on the tenth of October, there is a concert to celebrate Verdi's birthday. Jean, who used to be married to Reggie, arrives at the home and disrupts their equilibrium. She still acts like a diva and refuses to sing. But the show must go on in this funny and poignant play.
To download the production postcard for Quartet to share with your friends, visit the Downloads page of our website and look under the Production Postcard heading. A PDF of the production playbill is also available in the same location.
Additional information about the Quartet author, director, cast, and staff is available here: