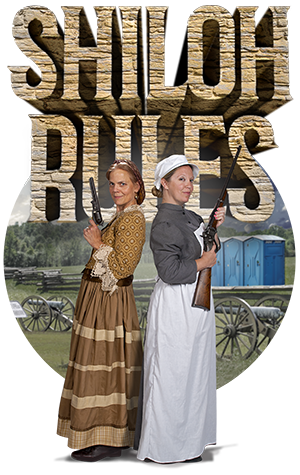 Written by Doris Baizley
Directed by Beth Terranova
Produced by Judi Wobensmith
Performance dates:
September 8 - October 1, 2017
Run time: TBD
A dedicated Union nurse and a mysterious Confederate refugee meet on the Shiloh battlefield to compete for the title of Best Female Reenactor of the Year. With their young trainees trying to out-do each other in "authenticity," and a concessionaire egging both sides on, their competition leads them into real conflict with Ranger Wilson, an African-American female park ranger who would rather be anywhere than the year 1862, imaginary or not. As the re-enactment rages out of control, all six women discover that some conflicts of the Civil War weren't left behind in 1862.
To download the production postcard for Shiloh Rules to share with your friends, visit the Downloads page of our website and look under the Production Postcard heading. A PDF of the production playbill is also available in the same location. In addition, publicity photos are available in our Photo Gallery!
Additional information about the Shiloh Rules author, director, cast, and staff is available here:

And the reviews are in...
(Click the reviewer logos below to read the full reviews where available online.)

"What makes this story so intriguing, however, is not so much the characters we meet initially as the people they become amid the trials of war as they change goals, opinions and alliances."

"Theatre in the round is one of the most difficult things for directors and designers but the production team did a lovely job of making it work."
"...Terranova has managed to make each actress shine in what appears to be a perfectly cast performance."
---
Introducing The Colonial Players' 69th Season
OUR 69TH SEASON HAS A LITTLE SOMETHING FOR EVERYONE...
And promises to be a thoroughly enjoyable ride through fact, fiction, and history. We open the season with the delightful comedy Shiloh Rules by Doris Baizley and are trans-ported to a civil war re-enactment battlefield where issues of race and sexism are explored; then we travel to 17th Century Germany with Moisés Kaufman's 33 Variations where we encounter the intertwined stories of Ludwig von Beethoven and a modern day musicologist; back in America, we next venture back to the 1940's with a special holiday treat and the presentation of It's A Wonderful Life: A Live Radio Play; then it's off to modern day England with Quartet by Ronald Harwood as we visit with four retired opera singers in their retirement home; next it's back to America with the engaging drama Sex with Strangers where two writers deal with the challenges of intellectual property rights in the age of the internet and social media; then it's off to Monte Carlo with the delightful and hilarious musical comedy of Lucky Stiff where an unassuming English shoe salesman is forced to take the embalmed body of his recently murdered uncle on a vacation; and we close by travelling back to 1962 in the Catskill Mountains of New York with Harvey Fierstein's Tony-Nominated play Casa Valentina where we get a glimpse into the lives of a group of "self-made women" as they search for acceptance and happiness in their very own Garden of Eden.
Another season not to be missed! Download our 69th Season Brochure!
Shiloh Rules
Written by Doris Baizley
Directed by Beth Terranova
Produced by Judi Wobensmith
Performance dates: September 8 - October 1, 2017
33 Variations
Written by Moises Kaufman
Directed by Terry Averill
Produced by Shirley Panek and Judi Wobensmith
Performance dates: October 20 - November 12, 2017
It's A Wonderful Life: A Live Radio Play
Adapted by Joe Landry
From the Screenplay by Frances Goodrich, Albert Hackett, Frank Capra, and Jo Swerling
Directed by Scott Nichols
Produced by Tim Brown
Performance dates: December 1 - December 10, 2017
Quartet
Written by Ronald Harwood
Directed by Darice Clewell
Produced by Kaelynn Bedsworth
Performance dates: January 12 - February 4, 2018
Sex with Strangers
Written by Laura Eason
Directed by Dave Carter
Produced by Brian Mellen
Performance dates: February 23 - March 18, 2018
Lucky Stiff
Music by Stephen Flaherty
Book and Lyrics by Lynn Ahrens
Directed by Eric Hufford
Music Direction by Emily Taylor
Produced by Tim Brown
Performance dates: April 6 - May 6, 2018
Casa Valentina
Written by Harvey Fierstein
Directed by Mickey Lund
Produced by Heather Quinn
Performance dates: May 25 - June 17, 2018