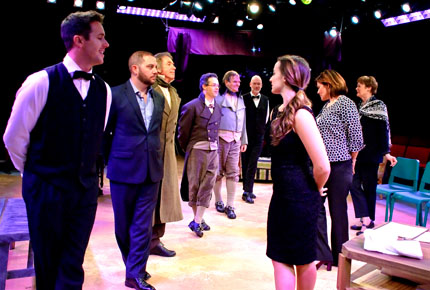 Why subscribe to Colonial Players?
You love theatre. You love being entertained, amused, titillated. You love the chance to live in other worlds, other times, to think about life from other perspectives, other circumstances.
You like to know that your seats will be waiting for you as you anticipate a full year of theatre dates with friends.
You love receiving a discount on your theater tickets.
You love being able to bring friends along to a performance with you at a discount (see Subscriber Friends and Family Discount, below)
You love supporting, as patron and audience member, a group of artists who are part of your community, contributing their time and talents to bring you the most interesting, entertaining, and energizing theatre they can.
Colonial Players offers subscribers the first chance at purchasing tickets. For each season, current subscribers and other patrons will receive the new Season Brochure in the mail mid-May advising them of the subscription sale. Current subscribers must renew by June 15 to ensure they retain their current seats. Subscriptions are available for purchase until the second show of the regular season closes. Subscribers providing additional financial support to Colonial Players are listed in each show's program.
Tickets are mailed to all subscribers starting mid-August. Tickets go on sale to the General Public during the last week of August.
The Colonial Players hopes that you will enjoy selecting your shows and subscribing to that magic carpet ride that only live theatre can offer. Come with us to visit the joys and struggles of the fascinating people who will appear on our stage this season.
The subscription form is available on the Downloads page of our website under the "Forms" heading during the subscription availability period (June 15 - November). Subscriptions are also available for purchase on our ticketing website during the same timeframe.
Colonial Players FlexTicket
If you like the subscriber's discount but are not so sure about pre-selecting shows, dates, and seats, consider a FlexTicket! For the same cost per seat as a subscription, you may purchase the Colonial Players FlexTicket, which may be used for any combination of shows and seats you choose through the end of the season in which it was purchased. Order 2 tickets for one performance, order 4 tickets for the next to bring friends along, order one for the next to treat yourself to a solo night of theater, and so on until you've used up your 10 seats! You can even use all 10 seats at once to bring a group of friends!
FlexTicket holders simply order their tickets for a particular performance by contacting the Box Office by phone (410-268-7373 opt. 2) or by email (This email address is being protected from spambots. You need JavaScript enabled to view it.). FlexTicket holders have the added advantage of being able to order standby tickets by phone on the same day as the show, up to an hour before curtain time. FlexTicket Standbys who have ordered by phone will be seated prior to regular standby ticket holders.

Ten-seat FlexTickets are available for Adults for $19.00 per seat ($190.00) and for Seniors, Students, and Active Military for $15.00 per seat ($150.00). They are transferable, so that your friends and family may use yours. Senior/Student/Military FlexTickets are limited to use by seniors, students, and active military members. Save money, support the theater, and enjoy the convenience and flexibility of FlexTickets.
FlexTickets can be purchased through the Box Office in person or over the phone (410-268-7373 opt. 2). They may also be purchased online on our ticketing website. FlexTickets are available beginning on July 1 of each year and continuing generally through December 31.
Subscriber Friends and Family Discount
Have you ever wanted to bring a friend or family member along to a show with you? Colonial Players is pleased to offer a benefit exclusively to our loyal subscribers!
Subscribers may buy up to 2 additional tickets for friends or family at the discounted subscription price to any performance for which you already have subscription seats. In addition, our Box Office staff will do their best to ensure your group is seated together!
It's easy to take advantage of this new benefit! Simply contact the Box Office by phone (410-268-7373 opt. 2) at least 24 hours before the performance for which you need extra tickets and we do the rest!
Is there any fine print? Only a little bit: This benefit is limited to 3 uses per season for a 5 show subscription and 4 uses per season for a 6 show subscription. Discounted Friends & Family tickets cannot be purchased at the Box Office on the night of the show.